>Vandaag gaat een nieuwe, Nederlandse, campagne live op IndieGoGo. Het Nederlandse GBO heeft een nieuw laadstation ontwikkeld waar je tot vier gadgets tegelijk kunt opladen, zonder ze uit beeld te verliezen. Ideaal dus voor je smartphone, tablet, mediaplayer, GPS, smartwatch etc.
Het StashGo4 laadstation bevat in totaal twee sleuven voor tablets. Daarvoor is ruimte om maximaal drie smartphones of andere platte gadgets in te prikken. Natuurlijk is deze ruimte vrij in te delen, waardoor je ook andere apparaten in de StashGo4 kunt laden.
Aan de onderkant van de StashGo4 zitten vier USB poorten en een flinke ruimte om onnodige kabellengte van jouw USB kabels weg te werken. Door het gebruik van standaard USB poorten, maakt het dus niet uit of je een Samsung, HTC of Apple erin prikt. Door de 2.1 ampère die maximaal aanwezig is per USB poort, maak je ook nog gebruik van de snellaadfunctie van je smartphone of tablet. Alle poorten hebben bovendien een unieke feature. Een multi-color LED geeft met rood of groen licht aan of jouw gadget al helemaal opgeladen is.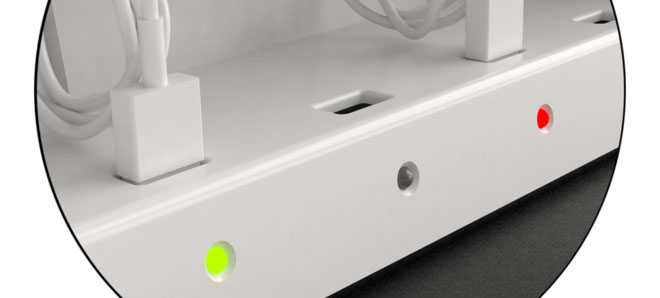 De Stash4Go bevat een eigen standaard, maar kan ook aan de muur worden gehangen. Hiervoor levert StashGo4 een muurbeugel mee. De adapter zit in de behuizing, dus je hebt enkel een standaard stroomkabel die je in het stopcontact hoeft te prikken. Echt alles is dus netjes weggewerkt.
Wil jij zo'n handige StashGo4 in huis halen? Voor €59 doe je al mee. Check de IndieGoGo campagne.