>Game of Thrones; het houdt mij al jaren in spanning. De boeken heb ik verslonden, de TV serie ben ik aan verknocht en alles wat er bij komt kijken is tof! Heb je ook een GoT verslaving? Dan is dit echt een hebbedengetje voor jou. Via onze vrienden van Welkoop kwamen wij in het bezit van een Game of Thrones houten muziekdoos!
De intro is zo pakkend! Als het 'Tuuduutududuuuu' begint dan zit je direct in de serie! Hoe gaaf is het om een echte houten eyecatcher te ontvangen die je bureau, schouw of weet ik waar versierd met de meest spraakmakende tonen van het moment.
De Unieke Handslinger Muziekdoos van Welkoop ontvang ik binnen twee weken via de post. Met zeer ligt gewicht en de afmetingen  6,5 cm x 5 cm x 3,8 cm komt het in een beschermende verpakking aan. De afwerking is geweldig, een zeer authentieke middeleeuws design wat direct linkt aan de serie. Met een zilverkleurige uitstekende hendel en een deksel dat openklapt geeft het je geluid en de tekst Game of Thrones, in het bekende lettertype. Draai simpelweg aan de hendel en deze fameuze melodie zal worden afgespeeld. Probeer op hout of glas of verschillende oppervlakken voor een nieuw geluid. Wanneer je het deuntje afspeelt is heel gaaf de werking te zien van het speeldoosje. Het werkt zeer rustgevend en verslavend, mits je natuurlijk een fan bent.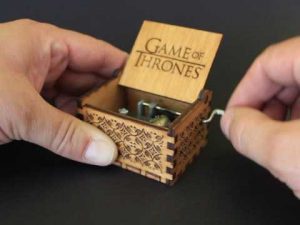 Productdetails:
Geen batterij: blijf aan de hendel draaien om muziek af te spelen
Uniek: Originele handslinger muziekdoosje, draai gewoon aan het handvat en het zal het bekende nummer spelen
Hout: Dit muziekdoosje is lichtgewicht en draagbaar en kan overal worden geplaatst waar je wilt.
Eyecathcer: Hoogwaardige decoratief aandenken
Beschikbaarheid:
De GOT doos is te koop bij Koopwel voor 19.95!