>Netflix maakt op grote schaal reclame voor haar nieuwe topserie; Orange is the new Black. Gelukkig is de serie niet alleen op Netflix zelf te kijken, maar kun je ook de Full HD Blu-Ray uitvoering van de serie kopen.
Misschien bent je, net als mij, geboren in de jaren 70. Dan ken je zonder twijfel de serie Vrouwenvleugel. De serie werd vanaf januari 1993 drie seizoenen lang uitgezonden en vertelde de verhalen achter de vrouwen in een vrouwengevangenis.
Orange is the New Black zou je kunnen zien als de Amerikaanse interpretatie van de Hollandse serie uit de jaren 90. Orange is the New Black draait alleen niet zo zeer om de hele groep vrouwen, maar vooral om het verhaal van Piper Chapman.
Chapman is een typisch geval van foute vriendinnetjes en is gesnapt tijdens een drugstransport. Hoewel ze een gevangenisstraf heeft uit te zitten, is het haar kennelijk gelukt om na de uitspraak een tijdje uit handen van de politie te blijven. Wanneer ze echter met haar Joodse vriend wilt trouwen, wordt het toch tijd om die straf uit te zitten. Ze geeft zich dan ook vrijwillig over bij de plaatselijke gevangenis.
Hoewel Chapman de boeken over het gevangenisleven heeft gelezen, blijkt al snel dat ze volledig onvoorbereid is op het leven achter de tralies. Het is compleet anders dan je zou verwachten. Daarnaast zit de serie vol opvallende figuren. Één van de meest opvallende is zonder twijfel Galina 'Red' Reznikov, die de baas is in de keuken. Red wordt gespeeld door Kate Mulgrew die we voorheen vooral kenden als Captain Kathryn Janeway. Wie denkt dat ze alleen maar de verstandige Amerikaanse kan uithangen, zal zich in deze serie enorm verbazen.
Hoewel Orange is the New Black als comedy wordt gezien, doet de serie de serie haar ondertitel meer aan. Onder de noemer 'Every sentence is a story' krijg je in iedere aflevering meer achtergrondinformatie over het verleden van één van de criminele vrouwen op de afdeling.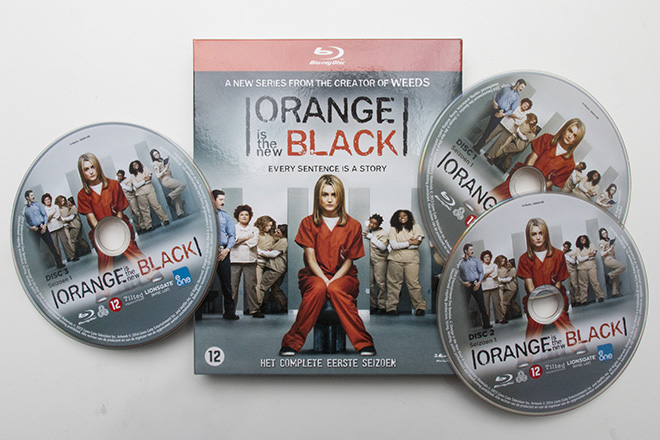 Overzicht Reviews
Opsomming: Orange is the New Black is geen bikkelharde comedy, maar een drama waarin grappige en schokkende momenten elkaar afwisselen. Wie fan was van vrouwenvleugel, zal ook fan zijn van de avonturen van Piper Chapman.