>Roccat lanceert vandaag zijn nieuwe gaming-muis de Tyon. De Tyon beschikt over extra veel functionaliteit en knoppen, waaronder de innoverende X-Celerator.
Naast een opvallend design beschikt de Tyon over ontzettend veel knoppen en de nieuwe X-Celerator. De X-Celerator is een analoge knop, met je duim beschik je over een analoge knop waarmee je gemakkelijk het gas kan doseren of een straaljager bestuurd. Ook beschikt de Tyon over de nieuwe Fin-Switch, een knop bovenop de muis die twee extra functionaliteiten ter beschikbaar stelt door de knop gemakkelijk links of rechts te duwen.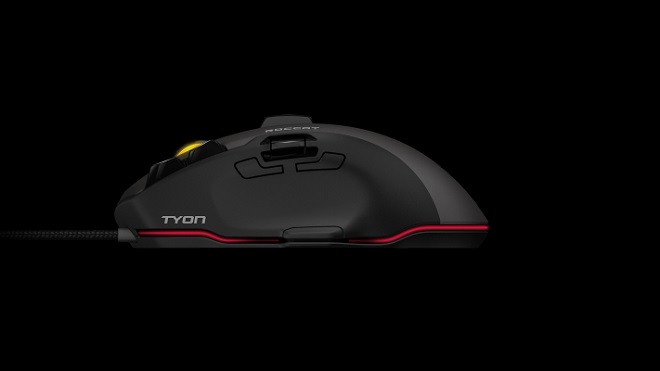 Verder heeft Roccat de Tyon voorzien van een 8200 DPI Pro-Aim (r3) Laser, en natuurlijk zijn er functionaliteiten als Easy-Shift, Tracking en Distance control, en is de verlichting in 16.7 miljoen verschillende kleuren in te stellen.
De Tyon is vanaf vandaag verkrijgbaar in het zwart of wit voor een adviesprijs van €99,99.