>Zoals velen keken ook wij al lang uit naar het nieuwe karakter de Necromancer. Met de nieuwe patch is hij er dan eindelijk!
Diegenen die al Heroes of the Storm spelen die hebben al het genoegen gehad om als Necromancer de strijd aan te gaan. Namelijk Xul, is zo'n Necromancer. Met botten uit de grond en het reanimeren van lijken zie je van ver al dat je te maken hebt een priester der ondoden.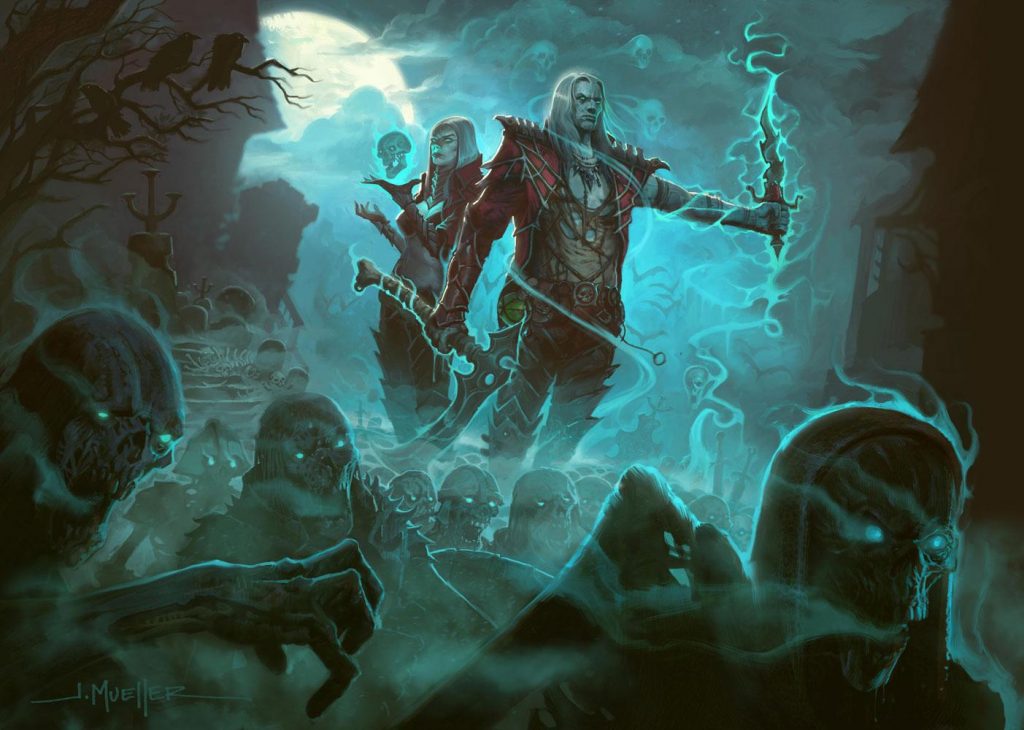 Zo ook in Diablo 3. Het speelt erg soepel, je kunt kiezen voor builds die je in melee range brengen of builds waar je van ver dood en verder, of wacht, dood en reanimatie zaait. Met behulp van lijken die kunnen ontploffen of tot leven te wekken, of het gebruik van botten en vele CC's kun je alle kanten op met deze Necromancer. De animaties zijn duister en en grauw. De sfeer van de Necromancer is perfect. De spells, de stemmen, noem maar op, alles wijst erop dat jij nergens bang voor bent en dood voor je kan laten werken met je bloederige en duistere skills.
Persoonlijk vond ik tijdens het levelen het prettig om vanaf een afstand de vijanden van Diablo af te slachten om hen vervolgens voor mij te laten werken. Zeker wanneer de eerste is gevallen kan het een kettingreactie tot stand brengen die binnen mum van tijd een horde vijanden neerlegt, tot jij ze weer tot leven wekt natuurlijk!
Kortom, de Necromancer zit goed in elkaar, weer de juiste sfeer te brengen en met de veelzijdigheid van de skills en spells zeker net zo goed te bouwen tot jouw favoriete speelstijl.
Mocht je nog meer tips willen of hogere torments halen en een specifieke build nodig hebben dan raad ik aan om op Icyveins.com te kijken. Dat kwam redelijk overeen met hetgeen ik fijn vond spelen. En nu pushen die Rifts!