>Corsair is volop aanwezig op de Computex 2015 en toont ook een nieuwe versie van de Obsidian Series 750D behuizing. Het gaat om de airflow edition van de 750D.
Zoals de volledige naam van de behuizing, Corsair Obsidian Series 750D Airflow Edition, al aangeeft gaat het om een kast met een verbeterde airflow. De 750D van Corsair is een full tower model, een reus van een kast met genoeg ruimte voor al je apparatuur. Door middel van een geperforeerd paneel in de 750D airflow edition, is de luchtstroom in de kast verbeterd. Dat komt natuurlijk weer ten goede van alle ingebouwde hardware.
Corsair heeft ons voorzien van een hele reeks foto's van deze prachtige 750D. De kast is naast functioneel, ook nog een prachtige ontworpen kast. Daarom zullen we jullie deze plaatjes niet onthouden! Ook zie je de volledige originele specificaties en features hieronder.
De Corsair Obsidian Series 750D is nu al verkrijgbaar voor een adviesprijs van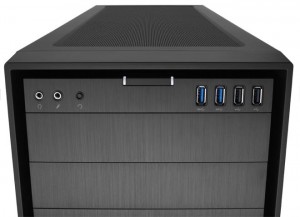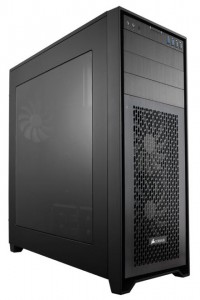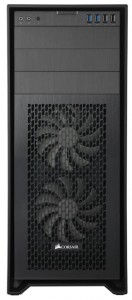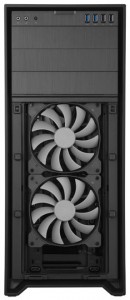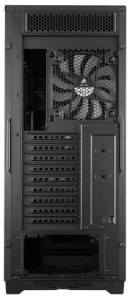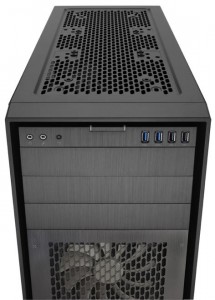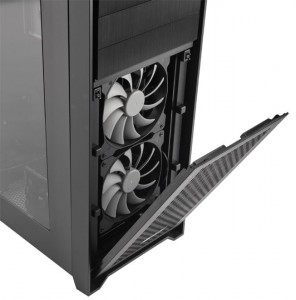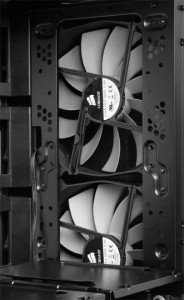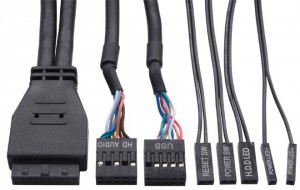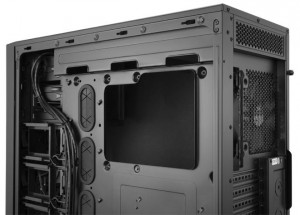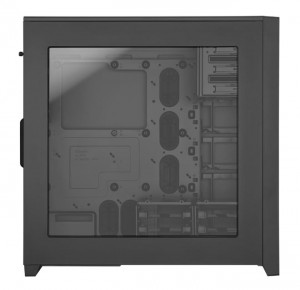 Obsidian Series 750D Airflow Edition Specifications
Expansion Room
Perforated front grille for improved cooling
Nine expansion slots for larger motherboards and running multiple graphics cards or expansion boards simultaneously
Six tool-free 3.5"/2.5" combo bays in two modular hard drive cages, with room for two more cages for up to 12 combo drive bays
Four tool-free 2.5" side-mounted drive cages for SSDs, out of the airflow path
Three tool-free 5.25" bays for expansion
Four front mounted USB ports for easy peripheral or external storage device connection
Cooling Flexibility
Three AF140L high-airflow 140mm fans (2 front, 1 rear) for excellent airflow and low noise levels
Room for up to 8 fans
Radiator compatibility:

Top – 360mm or 280mm
Front – 280mm or 240mm
Bottom – 240mm
Rear – 140mm or 120mm
Storage Layout Options
Modular hard drive cages can be configured in four separate mounting locations.
Side-mounted 2.5" cages allow quick, easy removal of the 3.5" drive cages for better airflow or room for radiators, while maintaining capacity for up to four 2.5" drives.
Builder-Friendly Features
Thumbscrew side panel removal and expansion slots
Tool-free 3.5", 2.5", and 5.25" drive bays
Center-post standoff holds motherboard in place while you secure the other screws.
Easily accessible (and removable) front, rear, and top dust filters.
Outstanding cable routing with rubber grommets for superior airflow and cleaner, neater builds
Four USB ports (two USB 3.0) and headphone/mic jacks in the front panel for easy access
Dimensions and Weight
Length x Width x Height
Weight