>Ok, dus de nieuwe patch is uit en we hebben er een wapenlab bij! Cool, maar hoe werkt het eigenlijk, hier enkele feitjes om een goede tactiek te bepalen.
Wanneer je hoofdkwartier level 15 is kun je het wapenlab bouwen. Kan, want het kost je een hele berg grondstoffen en flink wat tijd. Hier ze op een rijtje: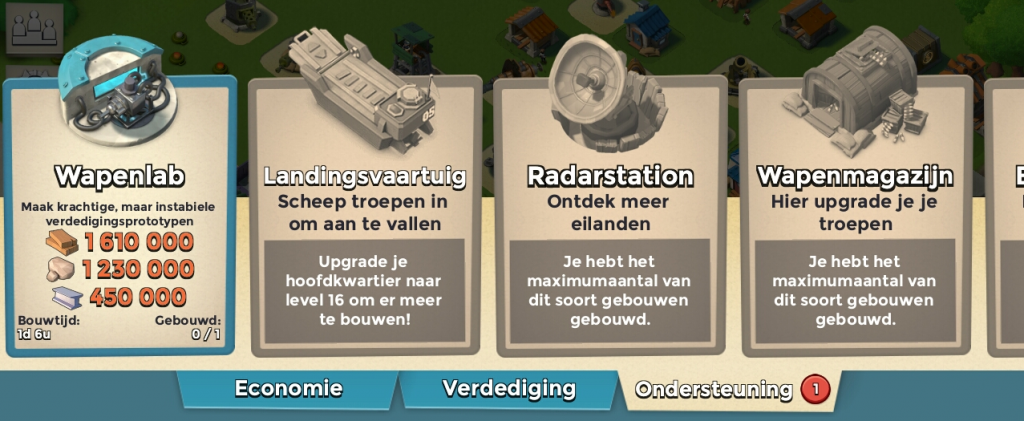 Wil je prototypen onderdelen verzamelen dat kun je dit het beste doen door aangevallen te worden door Hammerman met zijn vloot of wanneer Raderhart er is. Andere spelers of basissen van de computer aanvallen levert sporadisch onderdelen op.
Stel, je hebt voldoende grondstoffen om het wapenlab te bouwen en hij staat inmiddels te schitteren in de zon. Wat kun je ermee? Je hebt diverse experimentele wapens in verschillende levels. Hoe hoger het level hoe meer prototypen onderdelen je er voor nodig hebt. Wanneer je zo'n prototype wapen hebt gebouwd blijft deze twaalf dagen staan, slim is dus om voor die tijd al een nieuwe te hebben gebouwd zodat wanneer je oude in elkaar stort je meteen een nieuwe op de frontlinie kunt gooien!
Hieronder de wapens: De Damage Amplifier, de Doom Cannon, de Shock Blaster en de Lazor Beam. Wat ze precies doen zullen we in een later stadium uitleggen.
Deze diashow vereist JavaScript.
Wil je meer weten over de patch met alle nieuwe dingen? Check dan dit uitgebreide artikel, wil je weten welke vijand op welke dag aan komt zetten klik dan hier.