Dat het eraan zat te komen, dat wisten we wel een beetje. Maar hoe? Hoe kun je een smartphone comfortabel bedienen zodat het gelijkwaardig voelt met een controller? En wordt de eerste Super Mario een remake of een geheel nieuwe game in stijl? Vandaag kregen we antwoord van Shigeru Miyamoto, de bedenker van Super Mario.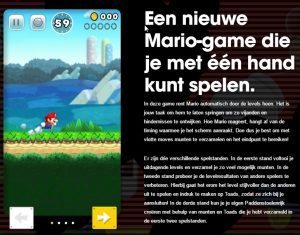 Nintendo kondigde vandaag op een Apple-evenement aan, in San Francisco, dat Super Mario Run op IOS verschijnt in December. Menig gamer zal bij 'Run' direct al denken aan 'Temple Run' en allerlei andere gelijkwaardige games én daar zitten ze niet ver naast. Het is geen 3D bird view zoals bij 'Temple Run' gewend bent, maar de oude vertrouwde 2D Mario stijl. Gelukkig! De besnorde loodgieter zal automatisch lopen en door middel van tikken op het scherm kun je springen, blokjes beuken en vijandjes omver springen.
Aan het einde van ieder level staat de welbekende vlaggenmast die je moet bereiken om het level te voltooien. Het leuke van deze game zit em niet zo zeer in de controles, maar meer in de versus uitdaging. Je kunt het namelijk ook opnemen tegen anderen, die ook hetzelfde level hebben gespeeld en hen op een creatieve manier dollen. Ook is het mogelijk om je eigen levels te ontwikkelen en dát lijkt ons, na Mario maker, gewoon weer erg leuk. IOS-gebruikers kunnen een gedeelte van Super Mario Run gratis downloaden en spelen, wanneer de gehele content beschikbaar is moeten mensen hier voor betalen. Een slimme zet, want zo kan iedereen even proeven, een lichtelijke verslaving opwekken en hatsee, de game kopen! Chapeau, Nintendo! Of moet ik zeggen Niiieeetendooo! Wahooo!
"We hebben van Super Mario Run een game gemaakt die perfect is om op je iPhone te spelen. Super Mario heeft zich met de komst van ieder nieuw systeem steeds verder ontwikkeld. Dit is de eerste keer dat spelers een volledige Super Mario-game met slechts één hand kunnen spelen. Zo kun je spelen terwijl je in de metro staat of, wat ik nog leuker vind, terwijl je een hamburger eet." Aldus Shigeru Miyamoto.
Zijn wij van de redactie helemaal gehyped en Mariocrazy met dit nieuws? Nee, niet echt. Natuurlijk is het leuk om capriolen tegen je buurman uit te halen en te kijken wie het tofste level kan bouwen, maar een ouderwetse Mario game voelt gewoon lekker met de bekende A, B, en pijltjes. Het was natuurlijk geweldig geweest als er een volledige Super Mario Game zoals Super Mario Land 1 en 2 (Classic!) van de Gameboy te spelen was op je telefoon. Wellicht met een handige popup Nintendo controller? Tof! Ik bedenk ze wel hoor. Ik weet zeker dat die markt, met toebehoren vele malen groter zal zijn dan een Mario Temple Run VS Mario Maker. Of we het gaan spelen? Natuurlijk, het blijft toch Mario.