>We kennen de Lord of the Rings. Dé filmtrilogie die bewijst dat films over elfjes en dwergen alles behalve schattig moeten zijn. Wil je toch iets in dezelfde richting met vrouw en kinderen kunnen kijken? Dan is er Willow. Een film uit 1988 die geremastered is voor blu-ray.
Hoewel mensen om mij heen Willo al wel kenden, was de film voor mij een grote onbekende. Met de hedendaagse special effects in films als The Hobbit was ik dan ook nieuwsgierig of een fantasy film uit 1988 het wel waard zou zijn om op Blu-Ray te verschijnen. Een nieuwsgierigheid die loont.
Willow trapt af in het kasteel van de boosaardige Bavmorda (Jean Marsh). Er wordt een baby geboren waarvan de legende vertelt dat deze een einde zal maken aan de macht van Bavmorda. Alle reden dus om de kleine roodharige baby de nek om te draaien.
De vroedvrouw weet de baby echter het kasteel uit te smokkelen en laat deze afdrijven in de rivier. Niet veel later is het Willow Ulfgood die met zijn kinderen de baby vindt. Hoewel zijn vrouw de baby graag zou houden, is Willow van plan om de baby terug te brengen naar de wereld waar hij thuishoort. Hij krijgt versterking mee en de tocht van de kleine helden begint.
Gedurende de tocht naar de wereld van de baby komt Willow de nodige gekke figuren tegen en weet Willow zich ook in het gevaar te storten. Een prachtig verhaal is het resultaat.
Qua special effects is Willow duidelijk niet van deze tijd. Wanneer je jezelf bedenkt dat Willow uit 1988 komt, dan zijn de special effects wonderbaarlijk goed. Van de andere kant, mochten we toen al heel wat verwachten van George Lucas. Inderdaad, het is een film van de maker van Star Wars en Indiana Jones. Het verhaal zit dan ook prima in elkaar.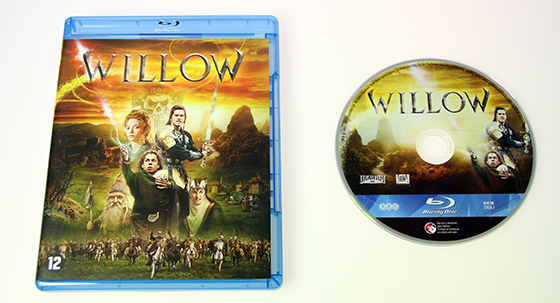 Extra's
Willow staat op één Blu-Ray en bevat de nodige verwijderde scènes. In de Making Of leidt Ron Howard je tond in de wereld van Willos en er is een bijlage over de toen spectaculaire special effects. Tenslotte is er ook nog het persoonlijke video dagboek van Warwick Davis. Al met al best volledig voor een oude film.
Conclusie
Willow bevat niet het spektakel dat we kennen uit recente fantasy films. Daar staat tegenover dat Willow een familiefilm is die gewoon lekker wegkijkt en voor jong en oud de nodige humor bevat. Goed te doen dus.
(Deze review verscheen eerder op GadgetGear.nl)
Overzicht Reviews
Opsomming: Voor 1988, een prachtige film. Nu vooral prachtig opgepoetst.