>Activision onthuld de eerste DLC mappack voor Call of Duty Infinite Warfare: Sabotage. Het lijkt nog maar pas geleden dat Infinite Warfare verscheen, maar ondertussen is er al volop vraag naar de nieuwe DLC.
Activision beantwoord deze vraag door de eerste mappack bekend te maken.  De DLC heet Sabotage en bevat nieuwe maps en wat zombie geweld. De DLC is op 31 januari voor de PlayStation 4 beschikbaar en wordt later, de volgende maand, pas vrijgegeven voor Xbox en pc.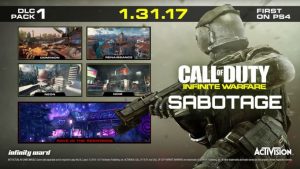 In de DLC Sabotage zitten vier nieuwe multiplayer maps, plus een uitbreiding op de nieuwe zombiemodus. De zombiemap is helemaal gericht op de nineties en heet Rave in the Redwoods. Inderdaad, gebaseerd op de gelijknamige horrorfilm uit de jaren '90. Onder het genot van vette Rave sounds moet je zien te overleven in setting van een pittoresque cabin aan een meer.
Van de vier multplayer maps van Sabotage zijn er drie geheel nieuwe maps en één oude vertrouwde in een nieuw jasje gestoken. De populaire map uit Modern Warfare: Afghan, heeft een 'Mars' make-over gekregen. De gameplay blijft hetzelfde, enkel speelt het zich nu op Mars af. De andere drie multiplayer maps hebben een spacy setting zoals de rest van de game. Zo heb je een Brooklyn in Noir-stijl, een VR training centre en de map die zich afspeelt in future Venetië.
Zo gauw als we de maps tot onze beschikbaarheid hebben zullen we wat toffe gameplay video's posten!