Pokémon fans opgelet: Pokémon Photo Booth is in de App store!
Pokémon is dit jaar 20 jaar (Pikapi!) en Nintendo wil graag haar loyale fans bedanken met gratis games, schattige knuffels, coole poppetjes en… Oh, nee… Pokémon Photo Booth… Een app die momenteel voor Itunes beschikbaar is en voor Android later deze week moet komen. Het voelt een beetje als een mager bedankje voor alle jaren zwoegen door het hoge gras, trainen en klusjes opknappen voor Oak, maar ach het is wel grappig.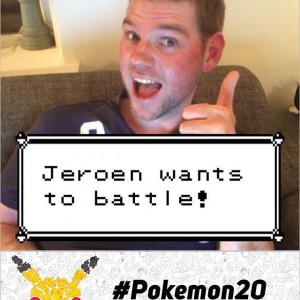 Hoe het werkt?
Je download de app via Itunes en je upload of neemt een foto. Je kiest dan of frame A: Een scherm met tekst, of frame B: Een pokeball facing over je foto. -Een beetje vergelijkbaar met de vlaggen die we op onze Facebook profiel foto's plakten toen jeweetwelwat.-  In ieder geval kan je er een tekst bij plakken zoals "Jeroen used Sleep! It was super effective!" De dikgedrukte woorden kun je dan zelf kiezen. Hierin kan je wel grappige dingen bedenken en ik zag er al een aantal hele foute online.
Conclusie
Wat ik wel mis zijn de Pokémon… Ik bedoel er is er geen één poppeke waar je een foto mee kunt combineren of in een zogenaamde battle pose kunt staan. Ach, genoeg gemopperd over een gratis app 😉 De Pokémon Photo Booth-app is nu gratis te downloaden in de App Store. Probeer het eens! Hier is de link:
Pluspunten:
Wel grappig
Foute combinaties te maken
Minpunten:
Weinig opties
Geen Pokémon !
Cijfer: 6