>Creative is geen onbekende in het vak, sterker nog, zij waren ooit de trendsetter op het gebied van gadgets en must haves voor gaming. Tijdens de Gamescom kregen wij een presentatie van de Europa vertegenwoordiger die ons enthousiast maakte voor hun nieuwe label: SoundBlasterX Pro-Gaming.

SoundBlaster X is de E-sports serie van Creative die vorig jaar gelanceerd is. Bij de release van het merk zijn een aantal core producten gepresenteerd die iedere pro-gamer nodig heeft. Zoals een high tech keyboard, muis, audio, headsets, etc. Tijdens de Gamescom kregen we eerst een presentatie op het scherm waarna we dwars door de drukke mensenmenigte naar de reusachtige booth van Soundblaster X werden geleid. Hier mochten we even voordringen om te voelen, zien, ruiken en vooral ervaren wat deze nieuwe lijn te bieden heeft aan onze lezers. Ambieer je trouwens een pro gaming carrière? SoundBlasterX vraagt gamers zich in te schrijven (zie foto hieronder).
Creative stroomt met de deze producten in op het midden segment. Hun doel is niet om een prijsvechter te worden, maar liever iets duurder hun producten op de markt te brengen en zo meer kwaliteit te bieden.  De onderstaande producten waren te bewonderen op de Gamescom en hopen wij uiteraard binnenkort uitgebreid te testen en te reviewen.
SOUND BLASTERX VANGUARD GAMING KEYBOARD
BACKLIT MECHANICAL GAMING KEYBOARD
109 fully programmable keys (104 standard + 5 dedicated macro)
Supports US English, German and Nordic languages
Customizable backlighting supporting 16.8 million colors for every key with Aurora Reactive System
SOUND BLASTERX DEATHSTROKE GAMING MOUSE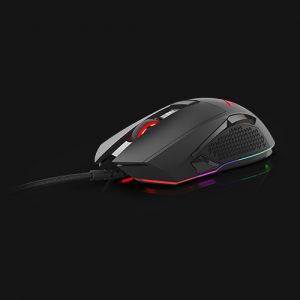 HI-SPEED PRECISE GAMING MOUSE WITH RGB LIGHTING
Gaming grade PixArt IR LED sensor with 32 Bit high speed MCU with low lift-off distance
6 fully programmable buttons with internal memory
3 level DPI cycle button for on-fly DPI switching
SOUND BLASTERX KRATOS S5 GAMING SPEAKER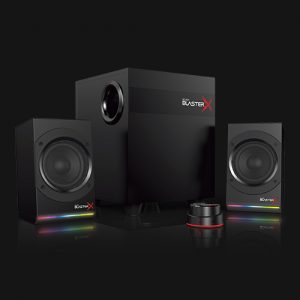 HIGH-FIDELITY 2.1 USB SPEAKER SYSTEM WITH CUSTOMIZABLE AUDIO
24-bit/96kHz USB AUDIO
Total System Power – 60 Watts RMS
4″ Satellite drivers plus 6.5" subwoofer
SOUND BLASTERX KATANA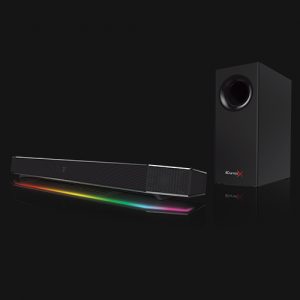 Deze enorme speaker is nog een beetje een mysterie. Niets van online te vinden, want het is was de vuurdoop van dit product. We hebben 'em actief gezien op de Gamescom, maar wat minder gehoord door de enorme geluidsoorlog van alle andere stands.
Zo ver als we nu gezien hebben is de Katana een langwerpige speaker die samenwerkt met een bijbehorende losse subwoofer en een kleurenspektakel dat zich aanpast voor iedere mood.